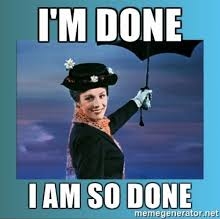 As you may already know if you've been following my videos, this year marks my 60th on this planet. With that milestone birthday I've had a huge realization around what I'm done with. I have taken an accounting of my life and in particular this past year, I have consciously let go of things that I am done with. Things like tolerating, suffering, punishing, overworking, not getting what I want, and certainly I'm done with things that are just not serving my grand life for my highest and best good.
For 10 years I have facilitated a sort of "I'm Done" end-of-the-year ritual with my Thought Shaker Thursday Community Circle and thought it might be something that we could do together virtually.
Perhaps you would like to come along with me the rest of the week and send me your "I'm Done" stuff, and on December 31st at 9:00 a.m. Central Time on Facebook Live, the words and intention representing what you are done with will magically vanish in my magic burning bowl. We will do a ritual to release, let go, and be done with all the things that you send me, in the hopes of starting 2019 with a clean palette, ready to begin anew.